Building Green With Decro Development
Decro Development strives to use the latest in Green building products and techniques to help give our homes a competitive edge in energy savings. Although a specific HERS rating can only be assigned though a qualified home energy auditor, and only after construction is complete, we feel that the following methods will ensure a below 70 rating.
Using "Blue Wood" lumber to help reduce the risk of mold, termites, and uncontrolled moisture absorption

Caulking both bottom and top wall plates during the framing stages to help seal all air gaps.

Install double insulated Argonne filled, Low-E energy star rated windows.

We use the proper installation techniques to install windows, including caulk, sill wrap, window wrap, and closed cell foam around the interior perimeter to minimize air leaks.

All doors are to have an Energy star rating and installed the same way to minimize air leaks.

Exterior finishes are energy efficient.

Spray foam insulation.

Install caulking and foam around all wire and plumbing penetrations.

All drywall receives a "0" VOC primer coat and two "0" VOC paint top coats.

All cabinets are formaldehyde FREE and solid plywood construction.

Use of sustainable flooring materials such as bamboo or laminates that include green features.

We use "Comfortmaker" HVAC system which have a two stage compressor and two speed fan motor to ensure proper temperature as well as humidity control.

All Plumbing shall include low flow for all faucets and shower units.

All lighting will include fluorescent bulbs and low energy ballast.




---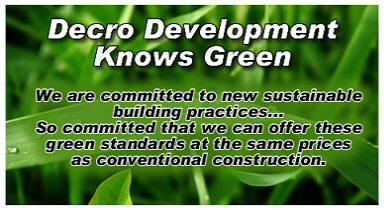 ---
Living Green in your Decro Development Home
Going green all at once is too much for almost anyone to accomplish. Instead, try making just one new change or adding one new habit or resolve each week. You'll be surprised at how it adds up after just a year.